INTRODUCING THE FLEX-N-RIP
The most adaptable and versatile shooting rest platform on the market.

Shop Now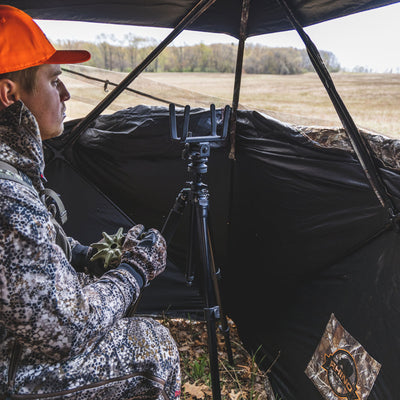 Save 10% with code FALLSALE for a limited time. Excludes sale items.
STEADY YOUR SHOT WITH FINAL REST
Final Rest offers the most versatile and innovative shooting rests on the market today.
Our shooting rest systems take up zero floor space in your blind. The shooting rest arm gives you a wide range of motion allowing you to easily move the rest from window to window.
With our versatile mounting systems, we have exactly what you need to keep your weapon steady no matter where or how you hunt.
SHOP NOW
We do our best to manufacture as many of our products as possible in the USA. Look for the "Made In The USA" badge as you browse our products.
EVERY HUNT VERSATILITY
Final Rest Shooting Systems are perfectly designed to be used with any weapon from crossbows to rifles to shotguns. The platform design even allows for weapons with pistol grips and extended mags.
Final Rest Shooting Systems offers options for almost any hunting situation. We have options for blinds, ladder stands, and roll bars.
SHOP NOW
NO LEG ROOM TAKEN
Sick of a tripod system taking up all your leg room in your blind? Worry about that no more. The Final Rest Shooting Systems take up zero leg room.
SHOP NOW
ULTIMATE PACKABILITY
One key feature we never overlook is packability. Final Rest Shooting Systems are designed to be as lightweight and packable as possible. The Final Rest tripod kit is made for the high country.
SHOP NOW